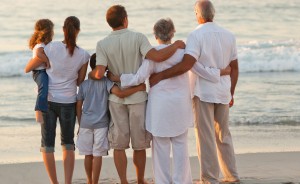 Making a Will is essential if you want to be sure of leaving your property and possessions to your loved ones – your chosen beneficiaries.
A Will allows you to provide clarity on a whole range of practical matters.

If you have children, it can say who should look after them if you die unexpectedly

You can name trusted individuals to handle the administrative side of dealing with your                    property and possessions

You can protect your assets for your family and future generations

A Will can include plans for residential care and tax planning
There can be a great deal of emotional stress after the death of a loved one. And dealing with all the associated legal, tax and administrative processes can be an additional strain. Unless you've experienced bereavement before, you will probably be unsure just what you have to do. You're likely to be faced with a barrage of unfamiliar terms such as Probate and Estate Administration, and have a lot of questions on matters that require immediate attention.
Dealing with someone's affairs when they die can be complicated, confusing and lengthy, often taking months to complete. Not what you need at a distressing and emotional time. We can help you through what is a difficult time. Whether you need some advice on what steps to take in dealing with the estate of a loved one or you are looking for someone to carry out services on your behalf, we are here to help you.
A Lasting Power of Attorney (LPA) is essential in making the "right choice", which allows you to choose someone you trust to make decisions on your behalf if something happens which stops you from being able to make your own decisions.
Having a Lasting Power of Attorney in place will allow your loved ones to:
Manage your financial affairs in the event of an accident or incapacity

Ensure the decisions made on your behalf are what you would have wanted

Make decisions according to your wishes with regard to any medical treatment

Ensure any care you receive is in line with what you would expect

Be the people making decisions on your behalf, not the Court of Protection.
Organising a Lasting Power of Attorney through Horizon Law saves you time and worry:
We actively manage the process through to minimise delays and we offer support over the telephone and email at every step of the way.

Our competitive prices are agreed upfront so you will always know how much it will cost.

We have already helped lots of people remain in control of their affairs. Why not call us now for a no-obligation chat about your circumstances?
LPAs are equally as important as making a Will and in the event that you do not have an LPA in place, the Court of Protection will appoint someone to make those decisions.  An LPA is not purely for the elder generation.  Every 90 seconds, someone is admitted into hospital with an acquired brain injury.
Trusts in Estate Planning can also be important.  You can pass and preserve your estate efficiently and privately, and you have control over the distribution of your assets.
A Trust will ensure that your assets are distributed as you have planned.  At Horizon Law, we can talk to you about how a Trust may help you pass your wishes and assets on.  There are several types of Trusts to consider to achieve the most appropriate for your needs.