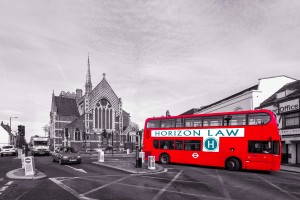 Horizon Law was incorporated as a private limited company in October 2009, and began trading in March 2010.
The firm is regulated by the Council of Licensed Conveyancers (the "CLC") for the provision of conveyancing and private client services. The shareholders and directors are all solicitors.  We believe passionately in the strengths that lie in specialisation.  The specialist approach the CLC brings to its regulation of lawyers and the protection of our consumers, is a major and compelling reason for our commitment to the CLC, as opposed to other regulators in the legal sector.  It means that our clients' needs and ours are met in a tailored and highly effective way.  The reason for opting for regulation by the CLC in the first place was the comparatively low cost of
obtaining Professional Indemnity Insurance cover, as compared with obtaining cover via the commercial market and the SRA. This cost saving is passed on to clients and gives us a  competitive edge.
The firm operates through offices in South Hertfordshire and North London. Presently the offices are located in High Barnet and Redbourn.
The firm's philosophy is based on the fact that the provision of conveyancing and will-writing services is an integral part of the residential buying and selling world, in which estate agents are the most visible and high profile players. Estate agents have always operated from high street shop-style premises which are accessible and attractive to their customer base. Conveyancers by contrast have worked in offices generally at first floor level or above, away from the shopping areas frequented by house buyers and sellers, and out of sight and therefore out of mind.
Our intention is to bring our services to the customer, and as far as possible to make the experience of the legal aspects of house selling and buying, as informal – and even enjoyable –  as possible.
The mainstream of the business is residential conveyancing of all types and all values – from first-time buyers to down-sizers, and from cottages to country estates.
There is also a strong commercial element to the business, dealing with: landlord and tenant, buying, selling and financing of non-residential property, and investment and development advice.
The private client element of the business is very important, giving customers the option of considering their wills once they have sold or bought properties, or indeed quite independently of that process.